You missed the Party!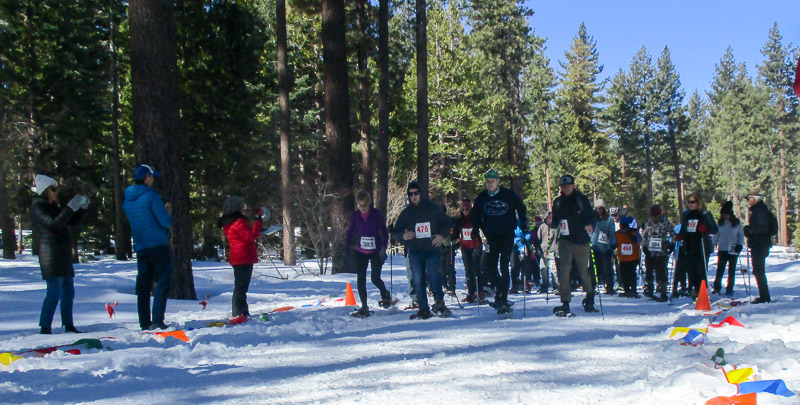 It was a bluebird Sunday morning as 58 walkers and racers lined up for the Fresh Tracks 5K Snowshoe Walk/Race on Sunday, February 27, 2022, at Camp Richardson Resort. The event was hosted by the Tahoe Mountain Milers Running Club. Tuesday and Wednesday's storm brought enough snow for an out and back course on groomed trails.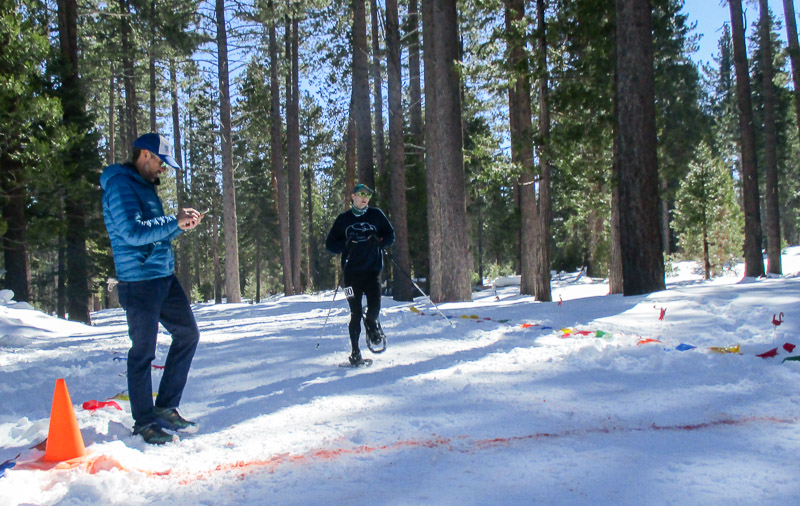 Alek Simpson, 25, of South Lake Tahoe won the event in 27:19. Kevin Calhoun, 28, also of South Lake Tahoe was second in 36:04 and in third place was Sean Finn, 17, of Carson City in 37:04.
In the women's race, Shayla Hope, 40, of Carson City, was 6th overall and the first woman in 44:17. Second place was Jackie Taylor, 66, of Gardnerville in 49:24 and in third place was Jennifer Licke, 67, of South Lake Tahoe in 50:44.
Participants ranged in age from 21 month old, Lucas Fukuno, of Oakland, who rode on his mother, Theresa's back for 3 miles to 80 year old, Floyd Whiting of Reno. Complete results are on the Ultrasignup website by clicking the button below: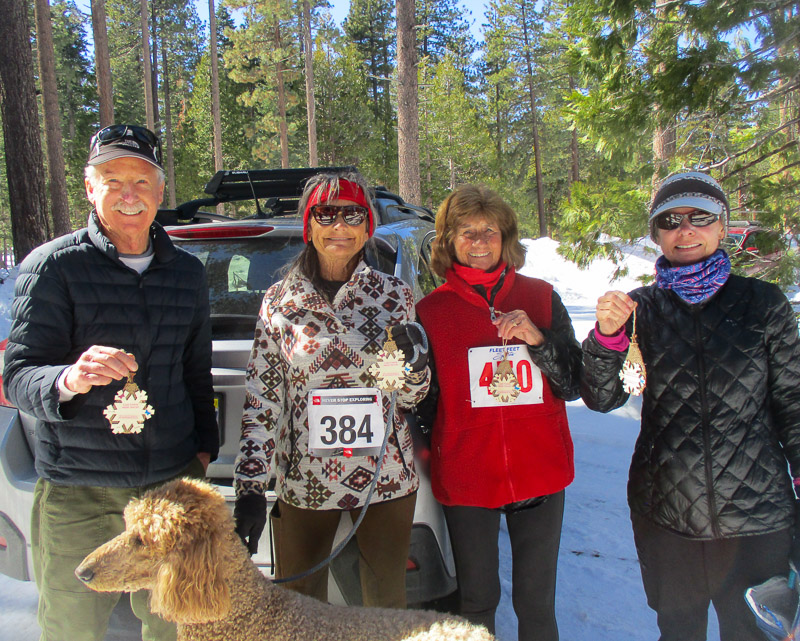 Special thanks to Kris Knox and his team at Camp Richardson Resort for making this happen, especially Travis Lauinger at the Mountain Sports Center. It was a beautiful venue and they provided great food for the picnic in the snow.
Thanks to our volunteers: Jan Bleiweiss (who printed the posters and stickers), grillmaster Tony Russo, LJ Panther, Dave McPeek, Floyd Whiting, Robert Speck, Joselio Ramirez, Diane Ratcliff, Peggy Lallement, Ute Luyties, Marty and Babette Galinak, Jo Hill and Larry Brilliant, Andrew and Hazel Ruthenbeck, EJ Maldonado (President of the Running Club) and Jess Haltom (secretary of the Running Club).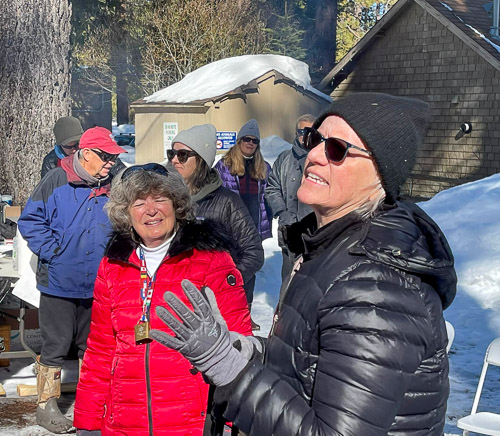 Beneficiary of the event was METAvivor (metastatic breast cancer) in honor of Renee Gorvin, Kelly Shanahan and all women battling this disease. Kelly gave a short talk of the importance of research in her journey with this disease. Also, thank you to the people who donated but did not participate in the snowshoe event.
Carol & Ron Nageotte, event directors
Tahoe Mountain Milers Running Club